Wastewater surveillance is a tool to monitor and trend COVID infections in communities.  It is considered an earlier signal for increases or decreases in SARS-CoV-2 activity since people infected with SARS-CoV-2 shed virus in their feces, even if they do not have any symptoms. There are several published studies that attest to the importance of wastewater testing. The ability to trend SARS-CoV-2 levels in wastewater provides valuable data that can support local public health department efforts to prevent the spread of COVID-19 within a community.
The State Hygienic Laboratory (SHL) has established wastewater testing program for SARS-CoV-2. Testing is offered to all 99 counties. SHL not only detects SARS-CoV-2 in the wastewater but also sequences the virus as well to look for the emergence of new variants.
The program is funded through CDC. Program participants collect samples weekly at their local wastewater treatment plant, and then send samples to SHL for testing. Collection containers and shipping instructions are provided by SHL. Results are available to local public health and the Iowa Department of Health and Human Services.
Frequently Asked Questions
The advantages of Wastewater Surveillance for Local Public Health
Since COVID-19 virus is shed in feces, wastewater surveillance allows public health officials to track changes in community-wide infection rates without relying on patient testing.

Wastewater is considered an early warning system that can indicate changes in community disease burden around 1 – 2 weeks ahead of individual case counts.

The results of wastewater surveillance can help inform decisions that help manage the spread of disease.

Wastewater surveillance is used to monitor for appearance of future variants.

Wastewater surveillance is a proven tool. It was used in the 1940's to monitor for polio, and recently identified a polio outbreak in New York state.

There are over 650 sites in the U.S. where wastewater being tested for COVID-19, according to the CDC National Wastewater Surveillance System (NWSS).

Wastewater surveillance maybe used in the future to test for influenza and other infectious agents.

There is no risk of infection with COVID-19 to the person collecting the wastewater since the virus found in the wastewater is dead.
It is not possible to predict the number of infected individuals reliably and accurately in a community based on sewage surveillance alone.

Wastewater surveillance only pertains to households on public sewage systems and will not represent homes on septic-based systems.

Community-level wastewater surveillance at a wastewater treatment plant will not represent communities or facilities served by decentralized systems, such as prisons, universities, or hospitals that treat their own waste.

Low levels of infection in a community may not be captured by wastewater surveillance if the quantity of COVID-19 falls below the limit of detection for laboratory analysis.

Wastewater is a complex environmental sample, and inherent variability in measured concentrations are expected due to environmental variability, day-to-day difference in sewer shed and population dynamics, and laboratory variability.  As such, trends are more reliable than individual data points; concentration of any individual data point may reflect variability and should be interpreted in appropriate context and with caution.
Testing
Contact SHL Environmental Client Services at 319-467-1589 or e-mail shl-environmental-services@iowa.uiowa.edu.

SHL will ask for your information and have a kit shipped to the facility.

Moving forward, the sample collection kits will be shipped to your facility on a weekly schedule. If additional kits are needed, please contact SHL Environmental Client Services by calling  319-467-1589 or e-mail shl-environmental-services@iowa.uiowa.edu.
Wastewater plants can collect a grab sample or a composite sample. Composite is preferred but either are acceptable to send to SHL for testing. 

Samples should be collected on Monday, Tuesday, or Wednesday and shipped to SHL at the end of a 24-hour composite sample collection, or the same day if a grab sample is collected. Do NOT collect or ship on Thursdays, Fridays, weekends, or holidays.

If sample(s) are collected at the end of the day or cannot be shipped until the following day, store the samples in a refrigerator until they are ready to be shipped.  Do not freeze.
Find detailed collection and shipping instructions for a 1.) composite wastewater sample, or a 2.) wastewater grab sample. Collection and shipping instructions will also be included in each sample collection kit.
The contents of the Composite Sample collection kit: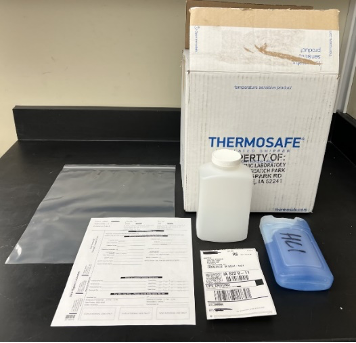 The contents of the Grab Sample collection kit: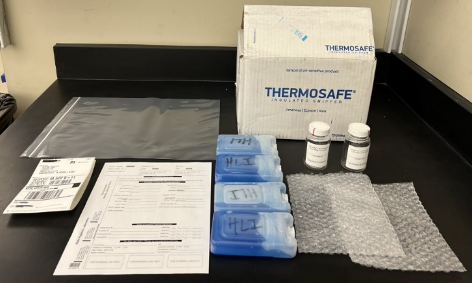 Receiving results
Results will be available within 5-10 business days of the samples being received at the lab.

The laboratory will electronically provide test results to the Local Public Health Department through the OpenELIS Web Portal as other SHL results are available.

The wastewater treatment facility will receive results through the mail. 
Need help?
Client Services (general questions, orders, shipments, etc) 319-335-4500 / 800-421-4692
Environmental Microbiology (technical questions) 319-335-4366